Are your neck and shoulders tense from hunching over a computer for eight hours a day? Are you in pain from a sports injury? Perhaps you're anxious about a big moment in your life, such as a wedding. It's time to consider a visit to a massage therapist. But what is massage therapy, and who can benefit from it?
Massage Therapy Definition and Applications
The Registered Massage Therapy Association of BC defines massage therapy as the treatment and prevention of dysfunction, injury, pain and physical disorders of the soft tissues and joints by manual and physical methods to develop, maintain, rehabilitate or augment physical function to relieve pain and promote health.
Massage therapists manipulate the body's soft tissues – muscles, tendons, connective tissues, joints and ligaments – to achieve results. Using touch, therapists:
relieve pain,
help heal injuries,
improve circulation,
increase relaxation,
relieve stress,
reduce muscular tension,
improve lymphatic drainage, and
help improve the general wellness of clients.
Massage therapy's beneficial effect on the body and its ability to optimize health and well-being derives from its acting on the muscular, nervous and circulatory systems.
Massage therapy can be used to develop, maintain and improve physical function and it can relieve or prevent physical dysfunction and pain and the impact of stress on the body. It can be employed to treat both acute and chronic conditions, and it is also effective as a preventive strategy.
Therapeutic Massage Techniques: Types of Massage Therapy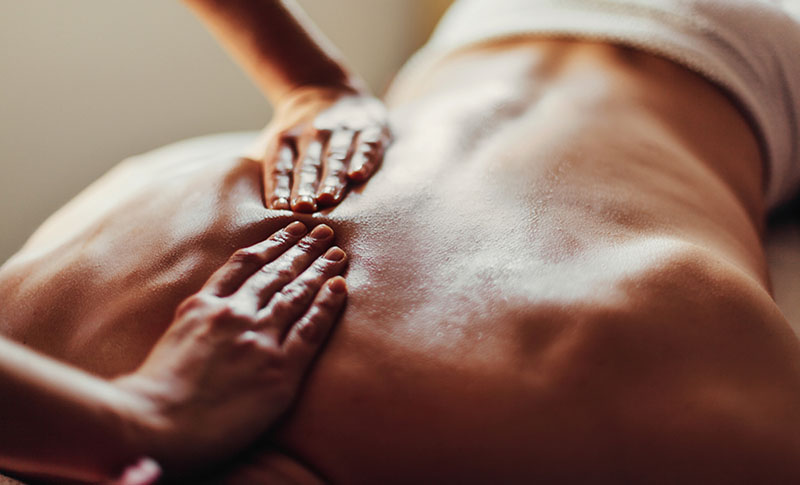 When it comes to therapeutic massage techniques, there are four common types of massage therapy:
Swedish massage. A gentle form of massage that uses long strokes, kneading, deep circular movements, vibration and tapping to help relax and energize you.
Deep massage. A massage technique that uses slower, more-forceful strokes to target the deeper layers of muscle and connective tissue, commonly to help with muscle damage from injuries.
Sports massage. Similar to Swedish massage, this approach is geared toward people involved in sport activities to help prevent or treat injuries.
Trigger point massage. An approach that focuses on areas of tight muscle fibers that can form in your muscles after injuries or overuse.
Massage Therapists use these massage techniques and others to provide relief for people with a variety of conditions, including:
Lower back pain,
Stress,
Sports injuries,
Pregnancy,
Arthritis,
Fibromyalgia,
Osteoporosis; and
Cancer.
However, massage therapy isn't appropriate in all cases. Avoid it if you have any of the following conditions:
Bleeding disorders or take blood-thinning medication,
Burns or healing wounds,
Deep vein thrombosis,
Fractures,
Severe osteoporosis,
Severe thrombocytopenia.
Massage Therapy Canada – How to Become a Registered Massage Therapist in Canada
Four Canadian provinces regulate massage therapy, just as they do any other healthcare profession. British Columbia, New Brunswick, Newfoundland and Ontario require massage therapists to obtain certification in order to practise as Registered Massage Therapists (RMTs). Many other provinces have professional associations for their massage therapists, and membership is often a sign of appropriate training. The 2011 National Household Survey indicated that there are about 26,000 massage therapists in Canada.
RMTs undergo a rigorous course of education and training to achieve their professional designation – don't confuse them with employees of massage parlours! Although massage therapy training varies among provinces, it requires comprehensive studies in health sciences such as anatomy, physiology, pathology, kinesiology, orthopedics and neuroanatomy, as well as an understanding of ethics and clinical practice.
How long does it take to become a Registered Massage Therapist in Canada?
Massage therapy programs are generally offered at colleges and last two or three years. In the provinces where registration is required, students must take a certification exam at the conclusion of the course to earn the designation Registered Massage Therapist.
Other provinces also offer massage therapy courses at the college level, but the graduates are not provincially certified or regulated.
Finding a Registered Massage Therapist in Vancouver, BC
Registered massage therapists may practise in a massage therapy clinic, set up in private practice or work as part of a team of healthcare professionals, including physiotherapists, physicians, nurses and social workers.
If you need to find a registered massage therapist in Vancouver, BC, you can ask your physician or physiotherapist to recommend an RMT, or you can contact a professional association, such as the Registered Massage Therapists of British Columbia, for a recommendation. In provinces where the profession isn't regulated, there are also professional associations for massage therapists and they have a roster of members to suggest.
Visiting a Massage Therapist
If you haven't visited a massage therapist in the past, you may be a bit anxious at the thought of someone you don't know touching you. Relax. Massage therapists are healthcare professionals and they are trained to be sensitive to your concerns. They are also bound by professional ethics to treat you professionally and with appropriate care.
Your first appointment will undoubtedly remind you of a visit to your doctor. The RMT will ask about your medical history, your current health, your reasons for coming and any medications you are taking. They will assess your needs and suggest the therapeutic massage technique that they feel will best address your issues. You always have the right to disagree or refuse specific types of treatment.
Once you've enjoyed the health benefits of a therapeutic massage, you'll be ready to return as often as you can. The relaxation and muscle relief are extremely satisfying and effective.
Looking for Vancouver's top Massage therapist?